BASIC PRINCIPLES
Gas turbines represent a significant and increasing share of thermal power generation plants worldwide. Although gas turbines are generally considered the most cost effective and relatively environment-friendly large scale power generation technology, their capacity as well as their thermal efficiency degrades under high ambient temperature conditions. This lost capacity is often replaced by less efficient plants, which in turn amplifies even more the extra costs of power generation and CO2 emissions.

EnergyFog Systems provides the most cost effective technique to recover this lost gas turbine capacity through adiabatic cooling of the gas turbine inlet air.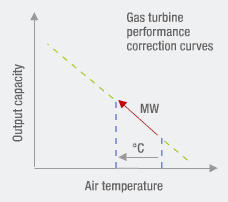 Gas Turbines are mass flow devices. In general terms, the higher the compressor mass flow the greater the power output capacity from the gas turbine. The mass flow to the compressor is a direct function of the air temperature.

Cooling the inlet air increases its density, improving compressor mass flow and thus allowing the turbine to operate at a higher capacity. The final result is better efficiency, with higher electricity generation and reduced emissions.

System power demand typically peaks during the hottest period of the day. This coincides with the periods when gas turbine generators in the system are at their lowest capacity. Adiabatic cooling allows the turbines to run close to their maximum potential capacity by reducing variations in their output due to the ambient temperature increase.
Base load operation
Installed in the air inlet duct, EnergyFog achieves adiabatic cooling by injecting an aerosol of water droplets. Air inlet fogging also reduces NOx emissions and CO2 emission rates.
6 AM Ambient temperature 20°C
Without fogging: power output 125 MW
3 PM Ambient temperature 30°C
Without fogging: power output 115 MW
3 PM Ambient temperature 30°C
With fogging: power output 125 MW
The density of the air entering the compressor affects the power output of the turbine. As ambient temperature increases, power output diminishes: every increase of 1°C can result in a decrease in power of 0.5 - 1%.
Top